Solar Panels
Enjoy a longer swimming season with solar panels from Solar Industries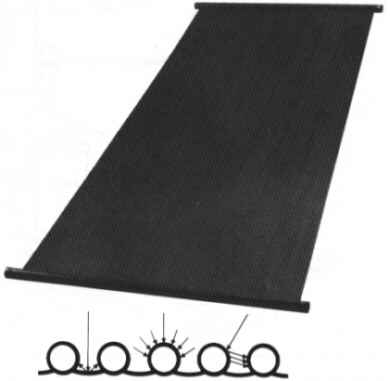 FIRST with "Tube and Web" heat trap design for reliable all-day performance.. even on windy days.
FIRST with All Stainless Steel mounting hardware for "Rock Solid" installation in high wind areas.
FIRST with Multi-Plate Construction for release of thermal stresses throughout the solar collector.
FIRST with Thermal Weld Construction for a seamless weld between the collector's body and header.
FIRST Polypropylene Collector to achieve 1,000 BTU rating per square foot of collector area in certified third party testing.
FIRST with A Lifetime Warranty - Backed by over 20 years of production experience.
FIRST All Polypropylene Collector to use the exclusive "Sun Gard" UV stabilization formula.. Performance proven in climates around the world.
Solar Industries solar collectors are designed to meet the heating requirements of outdoor swimming pools in nearly all climates. Using specially formulated polymer compounds, SI collectors withstand extreme exposure to the sun, weather, heat, pollution and oxidation. Unaffected by pool chemicals, they cannot rust, corrode or discolor your pool. Each standard collector is 4' wide and 10' or 12' long. Smaller sizes are also available. Si's unique patented tube and curved web design (104 individual tubes per collector) exposes more surface area directly to the sun at all times of the day. This means collectors can face in directions other than due south and allows for more installation flexibility. Solar Industries solar pool collectors even capture hazy sunlight on overcast days adding heat to your pool whenever possible. The cross section of the collector in the above picture shows the "heat trap" design which improves performance even on windy days.
Solar Industries is the only collector to survive a grueling 23 year life expectancy test in the Arizona desert. And with tens of thousands of installations worldwide since 1976, you cannot find a better built, better backed solar collector. SI customers have enjoyed continuous warranty protection since 1976, so you can rest assured you have the strongest warranty in the business.
To determine how many solar panels you will need, click here for the Manufacturers Calculation Sheet.
To view technical data, click here for the Manufacturers Technical Data.
Lx220 Solar Controller
Like Your home-heating thermostat, the Lx220 System provides you with a variable thermostat for solar heating your swimming pool by monitoring the temperature of both your solar collectors and your pool. Whenever the sun offers sufficient energy for effective heating, the Lx220 opens a motorized valve, sending water to the collectors. Should clouds or wind interfere, the Lx220 shuts the collectors off, keeping them from cooling your pool. The Lx220 controller will therefore warm your pool in the shortest amount of time. The system even monitors itself, making sure the temperature sensors are always function properly. The system includes the Solar Controller, Valve Actuator, 2" Solar Valve and 2 Temperature Sensors.
----------


A diagram of a complete system appears below.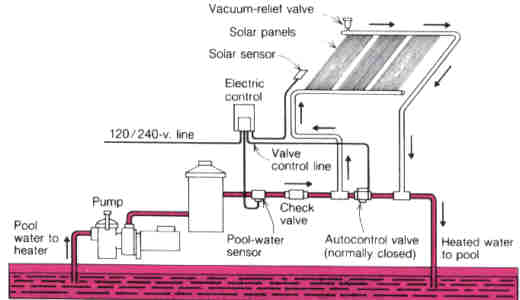 What a roof mounted group of panels will look like.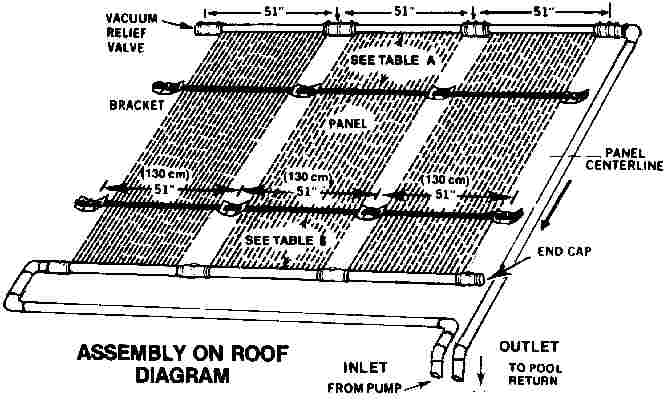 We can no longer list solar panel prices so please email for a quote:
Solar Collectors
System Kit
Hold Down Strap

4' x 8', 4' x 10' or 4' x 12'

54' or 107'

Installation Kit
Lx220 Solar Controller
Note: One System Kit req'd per system and one Installation Kit req'd for each solar collector. The Lx220 Controller is optional but highly recommended. To determine the number of feet of Hold Down Strap required, multiply the number of panels by 8.5. Therefore, If you have 3 panels, you need 3 x 8.5 = 25.5' of strap or 1 roll of the 54' Hold Down Strap.
An example of a complete system with 3 - 4' x 10' panels follows:
| | |
| --- | --- |
| QTY | DESCRIPTION |
| 3 | 4' X 10' Solar Panels |
| 1 | System Kit |
| 3 | Installation Kits |
| 1 | Hold Down Strap, 54' |
| 1 | LX220 Controller |
---
• Home Page • Pool Plans • Custom Liners • Air Domes • Solar •
---
HOMEBUILT POOLS • P.O. Box 44455 • Rio Rancho, NM 87174 • (505) 898-7181 • (505) 214-5161 Fax
Questions or comments? Email us
---